Messages On Hold Perth
MESSAGES ON HOLD MUSIC ON HOLD ON HOLD SAMPLES CREATIVE TEAM
When it comes to investing in a great quality audio production for your telephone message on hold program, look no further than the very specialised and professional team at Media Messages Perth. We are by far one of Western Australia's most qualified and affordable telephone message and music onhold providers.
For as little as $8.95/week, you could be playing a strategically written and entertain audio advertising campaign to your callers while they wait on hold. Plus we will further enhance your audio production through the use of very experienced voiceover artists, royalty free on hold music tracks and quality soundeffects.
Our audio creative team will work with you every step of the way to ensure you have a great quality telephone message and music on hold production that will help generate enquiry and convert sales.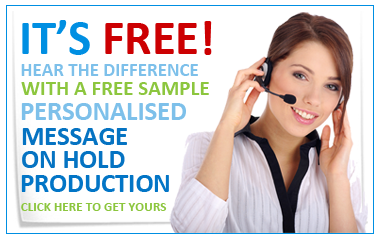 Why On Hold Messages?
Messages on hold are like the face of your business, you wouldn't want the wrong person representing your business, so why go for a below par first impression over the phone? Media Messages understands that you have spent a lot of advertising dollars getting your potential customer to call in the first place, but that doesn't mean they are going to choose your products or services if they are greeted with unprofessionalism. And if you have the radio playing instead of silence, your caller could hear your competitor's ad, and it would be a complete waste of your advertising budget. With on hold messages, they have already phoned you so they have an interest already- why not KEEP them interested. To get started it's as easy as speaking with the friendly and helpful team at Media Messages today.


On Hold Client Sample:
Take our word for it, being put on hold feels like forever, even though it is only about 43 seconds. Longer then the average radio ad, there is plenty of time to tell your caller about your business before you return to their call. Take a look at what a current Media Messages client is sharing with their customers right now:
Message 1 MVO: The Secret is out, 1 on 1 Realty is Secret Harbour's leading real estate agency. With over 25 years combined experience we are proud to be your local real estate agency specialising in residential sales.
Message 2 FVO: At 1on1 Realty, you receive award winning service that that is as our name suggests- 1 on 1. Our sales team love selling property and we're good at it- so if you have thought about selling your property- you have come to the right team that can deliver you the highest price!
Message 3 MVO: If you're looking to buy in the area, speak to the team that call Secret Harbour home. Living and working in Secret Harbour has given the 1on1 Realty team vast knowledge of the community and it's surrounding suburbs. Our record sales and customer service is measured and rewarded by our continued referrals from very satisfied clients.
Message 4 FVO: Here at 1on1 Realty we are proud of the fact we deliver a first class service to our clients that is second to none. Every sale, listing or viewing we attend is met with enthusiasm and a genuine concern for your best interests.
Don't let your customers hang up anymore! The answer is a Music On Hold service from Media Messages. Speak to Media Messages today and they can create for you your very own personalised demo. Then once you have a listen you'll know you will want your very own polished, informative and entertaining on hold messages to suit your individual business. To get started, just speak with Media Messages today!
Media Messages
2, 2 Spencer Road
Nerang, QLD 4211